A Man's Secret Obsession Switch:
"Make Him Fall
Head-Over-Heels
In Love With You..."

Instead Of Pulling Away And Disappearing From Your Life...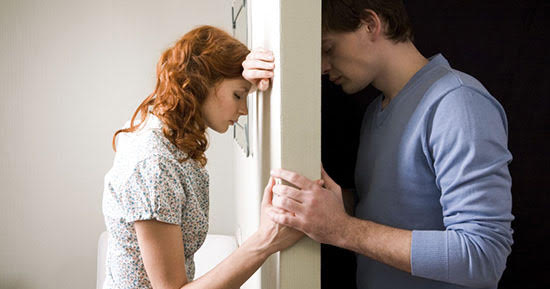 He's lying to you...
When a man tells you he "isn't ready to make a commitment..."

He's lying...


When a man tells you he "needs some space" or he wants to "take a break..."

He's lying...
These are the two top lies a man uses to avoid moving forward with you -
And most women never discover the truth.
In fact, most psychologists, therapists, and relationship counselors are in the dark as well...
Why is the "right woman" not YOU? - even if you're PERFECT for him...


Why is he "not ready to commit" to you? - even if the timing is obviously just right...


And then he gets engaged to someone else a few months later?


In this report, I'll reveal the REAL reason men won't move forward or commit...
And I'll show you the "Obsession Switch" that turns a man around 180 degrees...
This switch opens his heart and convinces him he IS ready - right NOW.
The Obsession Switch shuts off all his excuses and makes him dive in headfirst to your relationship.
The Obsession Switch makes him focus his attention on you as if you're the only woman in the world...


The Obsession Switch lowers his defenses and shields around his heart...


The Obsession Switch stops his game playing...


The Obsession Switch opens his heart - and lets him show you his true feelings...
The Obsession Switch makes him realize you ARE the right woman...
And if he doesn't act NOW - he's going to regret it for the rest of his life!

My name is Carlos Cavallo - and in this report, I'm going to let you in on a secret Obsession Switch...
The switch that moves any man to feel so much obsessive, passionate, crazy love for you that he will beg you for just a few seconds of attention from you...
This is the secret reason that men fall head-over-heels in love with a woman Instead of Another...
- instead of pulling away and disappearing from your life.
I'm going to show you what to do at any CRITICAL point in your relationship to save it.
You see, for too long therapists and psychologists have pointed the finger of blame at YOU -
Telling you your relationship problems are something wrong with YOU. Some unresolved "issues" from your childhood blaming it on "trauma" - or a 'dysfunctional' family...
FINALLY - a recent discovery has at last exposed - Beyond a shadow of a doubt... the REAL reason that men pull away from a devoted partner in a loving relationship -
And it's not your fault...!
And in the next few minutes, I will show you the real reason why men disappear.
And how to put an end to it forever!
Because this secret will also show you the other future you can have with him: Where he calls you up begging you to let him take you out to a romantic dinner...
Or spend time just holding you and looking deep into your eyes...
Savoring your warmth as he wraps his arms around you...
Most women want to know the answer to THE biggest relationship question...
This one question stands in the way of intimacy, love, and desire. And it ruins relationships - if you don't know the answer!
Yet for literally thousands of years this question has been on women's minds. And no one has been able to answer it correctly...
Until now!
The question is this: Why do men come on strong, but then he grows cold and pulls away...?
Why does your relationship start out passionate and loving... full of desire and fierce emotions - only to change - seemingly overnight...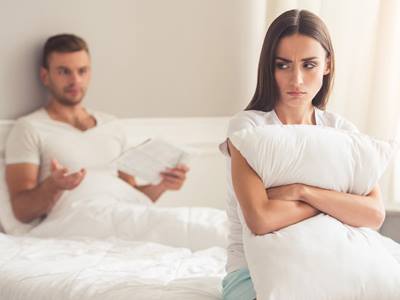 Out of nowhere, he starts being more distracted and distant...
He doesn't call or text you as much - when he does it's with short replies that feel cold...
He stops talking about his feelings for you.
And loses interest more and more...
You know that he's right for you - and you're right for him, but he's not moving things forward.
He used to chase you, but now he acts like he doesn't care anymore...
And you know that you shouldn't push him - you should hang back and let him chase you -
BUT - if you don't say something or do something, you'll never get anywhere...
The more love you want from him, and the more love you give him, the less he gives back.
Almost as if your love is pushing him away... BUT that's not what's happening...!
True Story...
Let me introduce you to Aimee and Dan...
Amy and Dan are a couple in the middle of an argument...
Tell me if this sounds familiar to you:
"Why can't I see you on Friday nights?" Aimee asks, sitting up in bed


Dan rolls his eyes and gets up... "That's my night with the guys. I've told you that over and over, Aimee."


She bites her lip and snaps: "OK, FINE, I get it." Tears well up in her eyes, and she pull the sheets up - feeling vulnerable..."


"Why are you crying?" Dan asks


She squeezes her eyes to trap the tears... "Do you love me?"


"Of course I do, Aimee," he says. "Why do you have to ask?"
Dan looks more angry, which makes her more scared...


She says: "Well, we've been going together for two years now..."


"Yeah, so?"


"When I talk about our future, you always change the subject."


"I can't talk about the future because I'm busy getting my career on track," Dan says. "I'm not ready to get that serious..."


"Now it's your career! Before that it was your mother's health, before that you 'weren't ready.' All I get is excuses... You just don't want to commit."


Dan huffs and shakes his head, not looking her in the eye - "There's too much fighting, not enough sex - and you're too needy... I think I need some space, Aimee."
Now, just two weeks ago, Dan and Aimee were talking about wedding rings...
And now Aimee has to figure out how to recover - how to turn this relationship around...
Because she knows that if she doesn't do something in the next few seconds, Dan will probably disappear from her life for good...
The secret to pulling him back lies in his "Obsession Switch"
You see, the reason most men fall out of love and pull away is simple: DISTRACTION
A man has a billion and one different things going on in his life... Stuff that takes his mind off YOU.
He's got his shows on cable and Netflix...


He's got video games...


He's got hookup apps like Tinder...


He's got social media to keep him in contact with old girlfriends...


He's got porn...



Each day he has over 5,000 (that's THOUSAND) advertisements hitting him - every single DAY...!
And each message promises him an upgrade of every aspect of his life
New car...


New flat screen TV...


New GIRLFRIEND...
The scary part is that the problem is real - and men are checking out... and it's getting nearly impossible for women to capture his attention, much less his heart.
"The only way you can keep him interested in you is to STAY ON HIS MIND..."
Make yourself the obsession that he cannot shake...
YOU can be the "viral" video playing in his head all day long... Awaken obsessive thoughts that he can't get rid of...
You have to stick in his mind like an 80s pop song that he can't stop humming...
And even if he tries NOT to - he will constantly see your face and think about you!
My name is Carlos Cavallo - and I've been coaching women - and men - in relationships for over 14 years.
And I discovered the key to saving your relationship - and taking it to the next level - is his Obsession Switch.
The reason the Obsession Switch works is because it's something every man ACHES for... more than love, more than money, YES - even more than SEX.
And the craziest part is, this one secret emotional switch holds the key to winning a man's attention, desire, and total commitment, but -
Not one woman within miles of you even knows it exists!
And those that do almost never share it with ANYONE else...
After coaching thousands of amazing and radiant women as a relationship coach, I've seen the power of this Obsession Switch and the words and phrases women say to turn it ON in men.
So that SHE is the focus of a man's passion and the priority in his life...
And once you understand how the Obsession Switch works, you too will be able to make the man you want fall into a passionate trance for you.
Or even use it on your boyfriend or husband to make him realize how lucky he is to have you in his life.
So that he drops everything and puts you at the center - makes you the top priority.
Once this switch in his brain is flipped, his nervous system will be lit up with such an intense feeling of desire - and fascination - that his body, heart, and head will cry out: "I need you so badly,"
And he won't consider - won't even want to think about any other woman - ONLY you...
I'll also show you the real life stories of women who used this same Obsession Switch to manifest the deepest love they'd ever experienced - or imagined -
And how you can have the passionate love story you deserve in your life...
Because no matter how hopeless your situation seems right at this moment -
Even if you're worried your man is losing interest after getting intimate with him too quickly...


Even if he's grown distant and no longer responds to you like he once did...


Even if you've given up hope that he will commit to your relationship...


And even if he's been ignoring all your texts and phone calls...


No matter how bad you think it is right now - It doesn't matter!
This secret Obsession Switch bypasses all of his shields and resistances - and goes straight into his heart ...
- without him even noticing what's happening!
He will realize you two were meant to be...
That's the beautiful power of this Obsession Switch!
With a simple phrase, you can inject a thought into a man's head...
He can't resist it, no matter how hard he tries!
And the best part is that he won't even suspect you control his Obsession Switch.
This secret emotional Obsession Switch is connected to a special part of a man's brain
After years of scientific research, I now know this discovery is THE KEY to you becoming his deepest desire and passionate focus in his life...
In fact, it doesn't really matter how "in love" or "infatuated" a man is...
If the woman in his life doesn't flip his Obsession Switch - to erase his distractions - and get him preoccupied with thoughts of her - he'll always be distant and non-committal.
He'll always feel unfulfilled, and he will seek out the woman who does understand this secret.
However, when you know how to flip his Obsession Switch, he will devote himself passionately to you - and ONLY you.
He'll climb mountains and cross any distance to please you and make you happy...
How is this even possible? Well, it's because his Obsession Switch is a biological program - it's buried deep in every man's DNA!
By now you're probably interested to know what the Obsession Switch is - and how it works.
Well, to prove it -
I did something that some people might not consider "fair"
I helped someone get her boyfriend to fall back in love with her.
Because I believe that if you help two people get together - two people that were alone and lonely before - you're doing a great thing for them. But some might not agree.
So - if you're against using 'techniques' to influence someone's feelings - you might not want to keep reading what I'm about to show you here.
Remember Aimee & Dan?
Aimee's been dating Dan for almost a year. Just two weeks ago, Dan and Aimee were talking about wedding rings...
But suddenly Aimee realized that Dan was starting to lose interest and pull away (and) she knew she had to act quickly to save her relationship...
Dan was a successful manager of a startup in Silicon Valley. He was smart, funny, fit, and incredibly generous - everything Aimee wanted in a husband.
He had the ability to handle anything in a relationship - from deep conversation to emotional vulnerability.
And they had the most mind-blowing, passionate sex she'd ever had with a guy...
She was so sure he was The One...
But lately Dan had been a lot cooler with her, and he didn't stay over as much, and Aimee thought this was because he'd been under a lot of stress at work.
The day after that big argument we just heard, Dan asked if he could stop by her place.
He said he "had something to say to her..."
Aimee was relieved that he was going to apologize...
They'd been dating for almost 2 years, and she even had a hopeful feeling he might finally be working up to proposing to her.
That's why what happened next flipped her life upside down.
Dan showed up at her house and he wasted no time:
"Aimee, you're really amazing," he said. "All of my friends tell me what a great catch you are, and I do feel lucky to be with you..."
He went on: "You're everything I've wanted in a girlfriend, and even in a wife..."
Aimee felt her hopes rise...
"Which makes it so much harder for me to say this..."
"I feel like we need to take a break..."
"I think something is missing between us, and I'm not sure what it is..."
"I just need some time to figure things out..."
Aimee felt like she'd just been thrown from a plane without a parachute.
She spent the next 2 hours talking to Dan - trying to find out what he was thinking and feeling...


She cried...


She pleaded with him...


She begged him to tell her what to do to fix things - what was she missing?


At one point, he even said: "It's not you, it's me..."
All of a sudden she felt like Dan was a stranger to her...
And now all her hopes were washing away...
Aimee tried to stay in touch with Dan through social media, occasional texts before bed.
She had hopes that at some point they'd be back together - that this really was just a "break."
That's when a friend of hers sent Aimee to come see me...
When I met Aimee and started working with her, I didn't realize what an impact she would have on me - or on my life's work.
You see, for the last 14 years I had been collecting notes on the men I coached - the ones that had become engaged within a few months (sometimes just weeks) of meeting their girlfriends.
In the process of working with them so closely, I had deep, intimate details of what kind of woman stood out in a man's mind as The ONE -
The woman that he was willing to give up all other women to be with...

These were true feelings from men that they had never shared with another soul...
I knew that these words and phrases were the kind of gossip that any woman would gladly pay any amount of money to hear...
The amazing thing I found was that the women who made these men so eager to commit didn't have all the "dream girl" qualities that the men said they wanted.
And yet, right after meeting these women - they were all the men could think about and talk about.
These guys were willing to do anything to make the relationship work - even including moving long distance to be closer to her.
I got very curious why this happened...
And I wanted to know what these women did that was so different from all the rest of the women who were struggling to catch the man they wanted and keep his attention and desire...
If I could find the answer, I could help the women I coached to find a way into his heart - and keep the love they deserved.
And the answer appeared - buried in the words of the countless interviews and notes.
It was hiding in their obsession with these women!
Now let me show you how Aimee got her "revenge..."
A month later - after a week of heartbreaking silence - Dan sent her a text in the middle of the day - "I need to see you - and ask you something"
He asked if he could meet up with her right away.
She said she was at work, and he replied: "Okay, I'll meet you at our coffee place..."
What was so important? she wondered... and this time she really felt an aching hope tug at her heart.
Maybe he was finally ready to patch things up.
Aimee left a little early so she could grab a snack at the coffee shop before he arrived.
That's when she caught them...
Dan was sitting at a table, holding hands with another woman with long black hair.
Aimee hid and watched...
She watched as the other woman got up, and rubbed Dan's shoulders as she left.
Aimee's heart fell into her stomach...
Panic gripped her...
Disappointed and fearful, Aimee closed her eyes and calmed her breathing - part of her wanted to run away in tears, but she remembered the words I had given her - and knew she had control now.
She knew it didn't matter if Dan was involved with another woman. She had something no one else had...
Aimee sat down with Dan, mustering a quick smile and hello...
Dan launched right into how "He wasn't ready for a relationship right now..."
He used every breakup line in the book:
"I love you, but I'm not in love with you..."


"Our lives are going in different directions..."


"I can't do this anymore..."


"I don't think we're right for each other..."


"We should stay friends, though..."


She looked at Dan and waited until he had finished.
What Dan didn't know was that Aimee had been working with me on these "Passion Phrases" - words that activate any man's Obsession Switch...
Aimee sat in silence for a long minute while Dan fidgeted in his chair...
Finally, Aimee just smiled at him and shrugged, stirring her coffee calmly.
"Sure," she said. "If that's what you want. But -"
And right then she used my "Bounce Back" phrase on him...
When she was done, Dan sat up straight - looking as if he'd been struck by lightning.
"Well," he said, "I mean, I was just wondering if that's how you felt, but - uhm..."
"Maybe we should give it another shot," Dan said, reaching across and holding her hand
Aimee smiled and told him she had to get back to work, but she'd "think about it."
When she got home later that night she found Dan waiting on her doorstep in the dark.
"I got you these," he said, apologetically handing her a massive bouquet of flowers.
His eyes were red and watery - "I'm so sorry... I don't know what I was thinking - you're such a fantastic woman to me..."
He told her that he decided Aimee was the only woman he really wanted.
He told her how foolish he'd been with tears in his eyes...
"I can't believe I almost lost you..."
Over the next week, as Aimee let Dan work his way back into her life, she tried her new phrases out on him...
She used some "Connection Phrases" - and Dan was now calling and texting her daily...
- the way he had been when they first met!
Always responding to her within seconds.
Aimee felt completely in control of her relationship for the first time in her life.
Dan was using every chance he could to win her interest and attention. He even asked her several times "where the relationship is going..."
Aimee used my "Hoop Phrases" on him - and that was the weekend Dan showed up for their date with a limousine, telling her she deserved a Cinderella night on the town...
And when he got down on one knee in the restaurant, with the entire staff and patrons watching - and all the other women with envious smiles...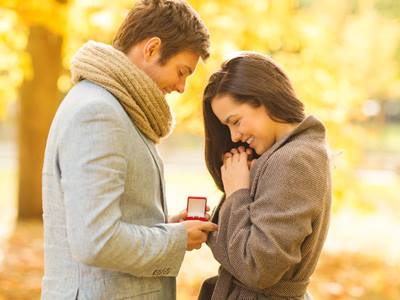 And he started his proposal with: "Aimee, you've always been there for me..."
"And now I want to be there... always... for you."
After Aimee's amazing success with her relationship, she shared a few of thse passion phrases with her friends.
Helping her friend Kristine use the "Attentive Phrases" to get a guy she'd had a crush on for over a year to finally ask her out.
One of my other students, Ann used my 3-Step Formula and -
Got her husband of 18 years to "revive his drive" for her...
He started bringing her flowers home, taking her out to dinners and dating her like they had just met.
He even left sticky notes around the house for her every day to find with love quotes on them for her.
Aimee's mom even used the "Indirect Phrases" to find herself two boyfriends in her retirement community - both of them ten years younger!
So how did Aimee go from almost losing the relationship of a lifetime - to total commitment from her man?
It goes back to what I discovered in my coaching notes...
You see - After hundreds and hundreds of coaching sessions and surveys, and spending literally years reviewing scientific papers on the psychology of desire, attraction, and commitment -
I finally found the magic key...
It was hidden in a study of "intrusive thoughts" - like songs you can't get out of your head no matter how hard you try.
And compulsive thinking - where a person comes up involuntarily in your mind....
In particular - I discovered a very special part of a man's mind that determines His Priority...
This finding explained the exact reason why men choose one woman over another, and how some women are able to trigger this obsession to make a man decide almost instantly that she's THE ONE for him.
What I found was an Obsession Switch in the male mind that completely focuses all his passionate desire on one woman...
Making him certain he's found his true love - and this switch is programmed right into his DNA at birth.
You see, if a man is hesitating or not moving forward - or if he seems to run hot and cold with you, there's only one reason - and it's THIS:
Most women try to convince a guy that they are special together, but this is where she makes a big mistake.
By trying to convince him or show him how "right" she is for him, she just gets more resistance and indecision...
And then his "fear of missing out" kicks in - which makes him think that if he waits, he might find a better woman out there...
To win, a woman has to flip his Obsession Switch...
This Obsession Switch is the part of his brain called...
The Seeking System - when fully switched on - fills his mind with obsessive eagerness
To chase and pursue...
Look at the stuff men are obsessed with - like sports.
When he's watching a game, he goes through every emotion in the book...
Dr. Jaak Panksepp describes the Seeking System:
"It motivates us to search for the things we need, crave, and desire... generating and sustaining curiosity...
In fact, when the Seeking System misfires, or is over-stimulated - it can lead to obsessive compulsive behavior -
Where a person has uncontrollable, reccurring thoughts and behaviors that he feels compelled to repeat...
The Seeking System can:
Induce addiction behaviors ...


Create motivation...


Focus his attention like a laser beam...


Stimulate eagerness & expectancy...


Trigger intrusive thoughts that he can't control...


The Seeking System works by activating a man's desire to HUNT and CHASE -
It's a primal drive that alters his brain chemistry so that everything about YOU becomes his focus...
Conditioning him to seek out your voice, your smell, and your closeness as much as he can...
This creates a "love template" that is stamped into his nervous system - into his thoughts and even his body...
He stops looking for anyone else and establishes you as the one for him - sexually and romantically...


He will actually turn away from other women because they won't match his Seeking System anymore...


He won't believe any other woman but you could him feel this way - which is why a guy will suddenly decide to chase and pursue you until he's won your hand...



At the same time, the Seeking System has a few other powerful side-effects on a man's brain...
It creates a "Glowing Effect" around you, which causes your positive traits to outshine everything else, elevating you to an almost angelic status, and takes away any reason he has for holding back or hesitating...
It causes him to fantasize about you nearly all the time...
He'll replay the moments you share together in his head over and over...
He'll also find an emotional dependency on your relationship that he will respect and cherish, which makes him desperately afraid of losing you, and keeps him invested and completely devoted to you.
He'll adore you, making you feel valued, special - and cherished...
As I thought back over all my client's questions and worries, it became clear that whenever a guy said he "wasn't ready for a relationship" or that the "timing wasn't right"
OR whatever he said to avoid moving forward with her, it was all just a distracting EXCUSE.
Because if the woman flipped his Obsession Switch ON - NONE of those things mattered anymore!
(Which is why he winds up engaged to the next woman he meets...!)
What was really happening was that she activated his Seeking System, this erased his doubts and uncertainty
Even if she had NONE of the qualities he said he wanted...
Once I understood what was happening, I started to map out how any woman could turn on a man's Obsession Switch so they could have more control and less fear in their relationships...
You see, most women try to win a guy by trying to be the perfect woman for him...
They act as if he has a checklist of what he's looking for in a girlfriend or wife, and if she can just match his requirements, he will choose HER.
But the reality is that we men make decisions with our emotions far more than we would ever admit to you.
And giving a man all the things he says he wants only works on the "logical" part of his brain.
SECRET TIP: A man makes his decisions with his emotions FIRST!
And then backs that decision up with "rational" reasons. And matching his 'checklist' doesn't flip his Obsession Switch on...
Knowing the right thing to say to him - the right words and phrases - WILL flip his Obsession Switch ON!
What you say to a man is EVERYTHING...
Certain words can make him pull away and make you feel like you're losing him -
- while other words can draw him to you like a magnet so that you feel like the most important thing in the world to him...
These phrases make him feel "out of control" around you - which is one of the most important ingredients in the recipe of passionate love
(And why so many men seek out an adrenaline rush)
If he thinks he has the upper hand and all the control over you and your relationship, he will lose the "thrill of the hunt."
He won't feel challenged - and his Obsession Switch gets turned OFF - making his attention wander and his eye stray.
But when a man feels out of control with you, it makes him vulnerable...
Love-crazy... Obsessed...
He feels excited and motivated and he can't stop thinking about winning you over...
And that's why men start freaking out when they think they can't have you...
Now, since most women don't understand how to create insatiable curiosity
- or how to get a man feeling vulnerable and out-of-control without resorting to playing "mind games."
I developed a series of phrases to flip his Obsession Switch, including Challenge Phrases which make a man feel that exciting rush of being "out-of-control"
And Love Phrases - so he will feel a compulsive urge think to regard you with the utmost esteem, love, and respect...
He will you honor you, admire and worship you... He will be devoted to you...
I created Connection Phrases which get him to forge an unbreakable bond with you
And even Seductive Phrases that awaken his primal sexual desire and focus it completely on you - in a way that no other woman can...
I also created a variety of phrases that do everything from revive his interest in you, to shut down his "bratty little boy" behavior...
Words that create compulsive curiosity, making him unable to stop fantasizing about you...
- or create deep emotional investment which makes him work harder and harder to earn your attention.
And passion-priming his mind - making him fall deeper into love with you every time he thinks about you...
And even some exclusive obsession phrases that program him to work harder and harder for your approval, attention, and affection.
The best part is that all of these can be texted OR spoken and they work like crazy...
I shared these phrases with my personal clients to get them incredible success in their relationships.
But I started finding it harder and harder to dedicate the time to my coaching practice, and the requests for these Passion Phrases were starting to take its toll on my professional and personal schedule.
So I took a working "vacation" of about 3 weeks to record these Passion Phrases...
I just put the final finishing touches on it... I call it:
Passion Phrases:
Obsess His Mind, Capture His Heart!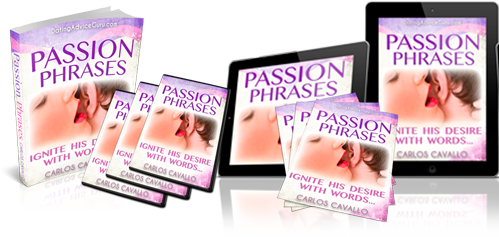 It's the only program specifically designed to trigger a man's Obsession Switch.
So you can get him thinking about you every waking moment, wipe out all other women from his mind and focus all his romantic and sexual passion onto YOU.
He will feel like he truly can't live without you - and that you two were "meant to be..."
When you use these scripts with a man, they automatically put him in seeking mode, so he fixates on you - single-minded obsession.
Creating infatuated "though loops" about you... and they make him blind to any of your shortcomings or flaws...
Every thought he has points his heart back to you. And he won't have any choice but to see you as the perfect woman in his life.
You become his favorite obsession, sending him into an aching restlessness when you're not there with him...
Like a part of him is missing... and he simply can't live without you.
In this program, you'll discover: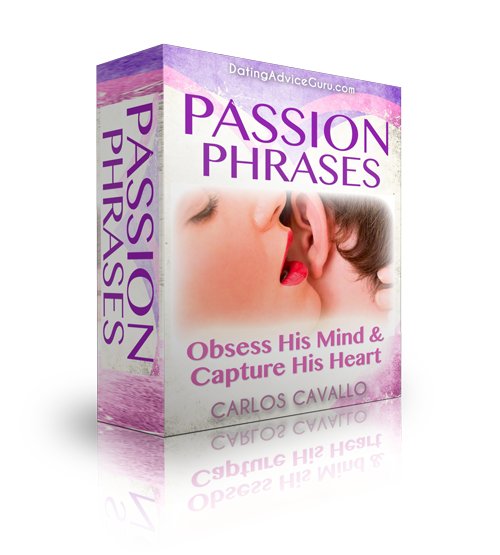 Indirect Phrases - that sneak under his awareness and weave themselves into his brain


The 3-Step Formula - a simple method you can use anytime to bring up any topic you want to talk about. And have him eager to sit down and focus on respecting you and your feelings


Physical Phrases - how to activate his desire with touch - and what to say after the sex so that he doesn't pull away or disappear...


Appreciation Phrases that will make him appreciate you more...


Curiosity Phrases that keep him interested and fascinated with you - so that he never gets bored...


Challenge Phrases that keep him working to win you over every day you're together...


Transformation Phrases - to get him to change - get rid of bad habits and be a better man for you...
I'm even going to include a complete BONUS program for you called:
The Ultimate Guide To Men:
What he wants from you and your relationship...
Here's what I'm going to show you in this never-before-seen program:
How men really think - from what they feel - to what he thinks of YOU...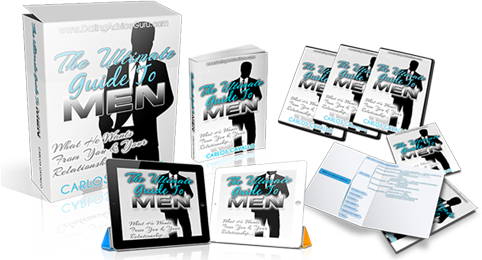 How to get him to tell you what he's REALLY thinking and feeling - and hear what's on his mind about you...
You'll always know where his head and heart are at - no surprises...
I'll show you why so many women bring out the worst in men - and why guys "misbehave" in the relationship...


Do you know the most important part of relationship for a man? I'll give you a hint - it's NOT the sexual attraction, which is what most women think it is... I'll reval the complete 3-part recipe of a man's undying love - the stuff the fairy tales don't tell you...


I'll even show you when a man's avoidance and disinterest will show up, and how to not only get past it, you'll know how to turn it around into INFATUATION with you all over again - So you'll be able to flip the "courtship" switch on in him anytime you want


You'll know the 10 reasons men fear commitment - and 7 ways you might accidentally be preventing him from committing fully. I'll tell you what these are, when they happen, how to recognize them, and how to match up with him perfectly at any stage...


And much MUCH more...
This is the complete 'owner's manual' for your man...
I'll also include my BONUS:
The Stages of Men:
Know Exactly What's He's Thinking...
This part of the program will explain why men think the way they do, and what he's looking for at every time in his life...
You'll also get my simple 2-step attraction strategy - How To Attract ANY Man. In case you're between relationships right now and you want to know what triggers infatuation that will drive him into your arms and sweep you off your feet...
I'll also share the specific 5 Signs He's Under Your Spell... so you know when you've GOT him...
I've combined all these with the Passion Phrases, so you can finally control the direction of your relationship...
You'll be in complete control of where you're going, and how fast you want to get there
Even if he's a total commitment phobe...


Even if he's emotionally unavailable...


Even if he's never been in a completely committed relationship before...


Even if he's got a crush on another woman...
Once you use these Passion Phrases with a man, you'll be able to see the results instantly, and know exactly where you stand with him
You'll see his eyes light up when he sees you...
You'll know you've got his complete adoration, with his small gestures of affection and love...
He'll start dropping more and more hints about how he feels about you, and the future he sees with you...


He'll start conversations about your relationship - asking where you are going so that he can test how much you feel for him...


He will ask questions that beg for reassurance that you still want him and need him as much as he wants you...


He will rewind time and talk about those little gestures of chasing you that opened your heart in the first place
Actively courting you...
Leaving you notes and messages to tell you he's thinking about you...
Loving, flirty texts that compliment you and notice things that he loves about you...
And the most beautiful part is when you feel how much he adores you, and this skyrockets your own self-confidence and radiant inner beauty...
Don't be surprised when other men pick up on your irresistible glow and start flirting and asking you out
And he'll become even more captivated with you every minute he sees your awakened energy
Since you'be stayed with me this far, you must be curious about the Passion Phrases and you probably want to know how to get them for yourself, how much it is, and so on
Let me tell you - I normally provide one-on-one coaching for over $150 an hour -
and I only have 10-15 office hours per week. At that rate, I wouldn't be able to help more than a handful of women...
So I decided that it was best to get this out in a fast, easy program that you could learn from the privacy of your own home.
Or even on your phone or tablet - anywhere you go.
And instead of the 10 private sessions of coaching it would take, which would be over $1500 -
We thought it would be fair to charge only half that ($750) to be fair to all the women on the 2 year waiting list to work with me...
After all, what I've put in the program is exactly what I teach to my own clients.
But I knew I had to make this affordable for any woman to get - not just women who could drop a lot of money at once.
I want you to date confidently, and to know that -
you can be in a secure and passionate relationship with the man you want...
Because it's my mission to help over 1 million women in the next 2 or 3 years...
We polled our past clients and associates, and everyone felt that bringing the price down to $197 was very reasonable.
But again - we wanted to make sure that the word-of-mouth got out on this life-changing program, so we decided to do a marketing trial for an even lower price.
This page is part of that test, so if you're watching this right now,
You have the special opportunity to get the Passion Phrases for over 80% off...
So that you're the only woman in his mind, his heart, and his life...
Right now, we're offering you the chance to get the Passion Phrases to activate his captivated love and desire for you
For a one-time payment of only $48.
No recurring charges or hidden fees.
This means right now you can simply click the button below, fill out the order form
And you'll be taken to your secure page to get access to the entire program. And get started in just minutes...
We'll also send you a quick email with a link to your materials - and how to contact us if you need to.
Click the button now for this limited offer:


Only $48 today - Optional Trial available
100% Guaranteed
and because I wanted to make getting the Passion Phrases program a complete no-brainer for you, I also wanted to include some more exclusive bonuses you will get - free of charge - for being a fast-action taker on this offer today.
BONUS #1 is the "Ultimate Guide to Men" - which I outlined earlier
You'll get all 2+ hours of additional secret tips about the secret life of men - and how you can use this to your advantage...

I'm also giving you BONUS #2: "Passion Secrets"
Where I'll share with you the 5 Relationship Saving Secrets that most women will never discover.
You'll also find out the 2 kinds of women that men sort you into - and how you make sure you're the right kind that he lets into his heart and his life...

In BONUS #3, I'll show you the secrets of "Love Games"
- and how to avoid getting stuck in limbo instead of getting to long term love.
I'll explain and detail the healthy - and the DEADLY - games that people play in relationships so you can avoid the heartbreak and the suffering of a man who won't commit...

In BONUS #4 - "Dirty Talk Phrases"
I'll share complete word-for-word bedroom phrases that men want to hear, so that he reveals the secret intimate needs that he keeps hidden...
You'll know the secret fantasies that all men share - without changing or giving up who you are.
These techniques trigger the reward system in his brain to condition him to sexually desire ONLY YOU...

And in BONUS #5: "Power Phrases"
I'll share 12 special scripts with you that will cut through even the most aloof man's shields...
Making him putty in your hands - and giving you the ability to pull him back to you EVEN IF he's looking at other women...
I debated including these phrases, as these are the most powerful words you can use with a man - but they're included in a special For-Your-Eyes-Only section.

Each of these bonus programs is worth over 24.95 on its own - which easily doubles the value of this program for you - for free, just for taking advantage of this offer now.
To make it super easy for you to try the Passion Phrases program today we're offering a complete 90-day unconditional, no-questions-asked...
100% money back guarantee
This means you can get complete access to the phrases, go through it all, use everything, download everything and try it all out .
And if the man you use it on isn't completely captivated by you - or you're not satisfied with the materials for any reason -
Simply let us know within 90 days (that's 3 months) - and we'll immediately refund 100% of your purchase - no questions asked.
It can be hard to decide if something is for you, and there's often a resistance to act...
And we wanted to take that obstacle completely out of your way, so you could try the Passsion Phrases out for yourself before you have to make a decision.
You can see for yourself how powerful these techniques are to open his feelings up to you...
How quickly you can capture his attention - and help him get out of his own way...
All you need to do next is click the button below...
Fill out the order form on the next page, and in just minutes you'll have complete access to the Passion Phrases...
All the bonus programs...


Only $48 today - Optional Trial available
100% Guaranteed
And a few more surprises inside that I haven't even mentioned yet.
Of course, it's up to you - If you're waiting to get this no-risk offer, that's completely your decision.
But I wanted to warn you that I'm negotiating a possible offer for a book deal on Amazon, and they would want me to revoke any outside offers of the Passion Phrases program.
If you're watching this video, and it's still up - then you still have the opportunity to get it...
However it could be pulled down if the book goes forward - and you'd have no way to get the Passion Phrases - or bonuses.
I can't say when for sure - so I'd suggest you stay on the safe side and grab this offer while you can. Besides, you can return it later if you change your mind...
All you need to do next is click the button below...
Fill out the order form on the next page - and in just minutes you'll be accessing the Passion Phrases.


Only $48 today - Optional Trial available
100% Guaranteed
The way I see it, you've got two doors before you...
One door leads you back to the path you were on...
Back to where you were - in or maybe out of your relationship...
If you're perfectly happy with how men treat you, then you probably don't need these Passion Phrases.
However - the OTHER door in front of you will lead you to finally take control of your love relationship...
To have him tell you the exact reasons he's in love with you, and why he's grateful for your love and support every day...
You can fast forward your love life to the happy ending...
Saving yourself months - and probably YEARS of painful heartache and grief.
There's no reason to continue to struggle to get the love you want when it's right in front of you.
I've done all the work for you with these effortless phrases and scripts.
Just follow along step-by-step and you'll have the man you want and the relationship that is just out of reach.
Remember: ALL of the Passion Phrases slip by his radar completely unnoticed - and undetectable.
He will simply assume that this is his own desire taking over his willpower and giving his heart to you.
Aimee reached out to me from her honeymoon with Dan with a message for you:
She said:
"It's wonderful to finally have him, and know I've got his love -"
"When Dan holds me; when he touches me; when he caresses me; when he's tender..."
"I want you to use these Passion Phrases to feel this yourself..."
I don't think it's chance that you're here right now, watching this presentation.
I think you're being given the opportunity to make the change in your love life that you've always wanted.
I think you were brought to me for a reason - call it destiny if you must.
I'm opening the door to this opportunity - and it's up to you to decide if you'll walk through it.
It's your call - and I'm here to support you and guide you if you decide to continue.
Aren't you tired of hoping it will get better?
If you want to wait until some mysterious force of the universe wants to drop the right man in your life -
maybe in a few months


maybe in a few years, or decades....


or maybe never...
If you want to wait for that kind of wishful destiny, this program probably isn't for you.
But -
if you want the unfair advantage that the OTHER women have - that you've always wanted...
That wonderful life of devotion and meaningful connection to the man you want, where he looks at you each day with gratitude, knowing that he's found the ONE for him
Eager to prove to you how crazy he is for you.
All you need to do is click the button below and get started - in just a few seconds after filling in the form, you'll have everything you need...


Only $48 today - Optional Trial available
100% Guaranteed
The word-for-word, done-for-you phrases that are proven to make men unleash their feelings of passionate desire.
As a special incentive for you - and only for those who are ready to move forward right now.
I have one more Fast-Action bonus for those who get the Passion Phrases before the end of this presentation:
The Get Him Hooked Bundle
What He Sees & What He Wants


How To Attract Any Man


What Men Need To Love You
That's 3 more bonuses...
Now - let's cut to the chase:
You'll get the Passion Phrases - regularly $197


The Ultimate Guide To Men bonus - regularly $67


The Passion Secrets Bonus - regularly $29


The Love Games Bonus - regularly $29


The Dirty Talk Phrases - regularly $37


The Power Phrases - regularly $17


and the special Fast Action bonus: Get Him Hooked bundle - regularly $47
That's a total value of $423.00
For only $48!
With your 90 day money-back complete assurance guarantee, and absolutely no risk to you!
Try it out now and have 90 days to make your final decision.
Remember that your life can change in a moment - this is one of those moments that will unfold for you in greater love, more connection, and the passion you want from him.
You can finally guide and direct his feelings for you.
Get him obsessed and adoring you - pursuing you with all his heart. And knowing his love when he holds you in his arms - looking deep into your eyes, and telling you that you're everything in the world to him...
Click the button below to get started now...
This is Carlos - and I'll see you on the inside...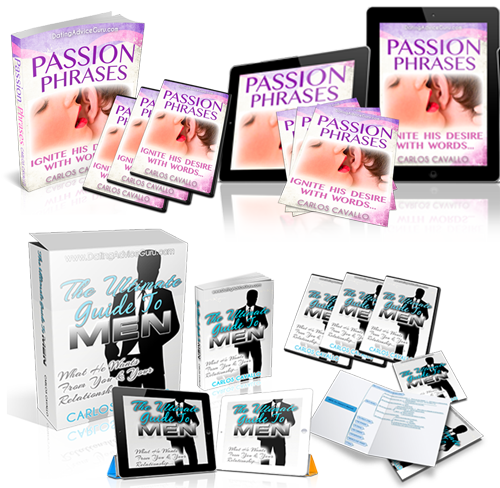 Only $48 today - Optional Trial available
100% Guaranteed
Remember...
Your order is backed by my 90-day money-back guarantee
Your order is processed by a trusted, secure server.
You will receive access to the entire program immediately; there are no shipping fees.
---
Total Value: $423.00
$97 $78

TODAY ONLY: ONLY $48
*Please Read*
Note that the bonus free trial to the Perfect Passion Insiders club is
completely optional - HOWEVER
most of our members will opt for this opportunity as you'll be learning more advanced skills for building your intimate connection and without the
Perfect Passion Insiders club
you'd be missing out. (You don't need to do anything, just hit the add to cart button below to get instant access to Passion Phrases and the bonus free trial of the Perfect Passion Insiders club.) If you decide to stay on after your free trial, it's only $37 per month - and you can cancel ANYTIME! And each week you'll receive brand new love & commitment secrets including:
Insider Tips & Advanced Desire Secrets Videos
, and more interviews with dating gurus.
ClickBank is the retailer of products on this site. CLICKBANK® is a registered trademark of Click Sales Inc., a Delaware corporation located at 1444 S. Entertainment Ave., Suite 410 Boise, ID 83709, USA and used by permission. ClickBank's role as retailer does not constitute an endorsement, approval or review of these products or any claim, statement or opinion used in promotion of these products.
Phone: 1-888-414-0780